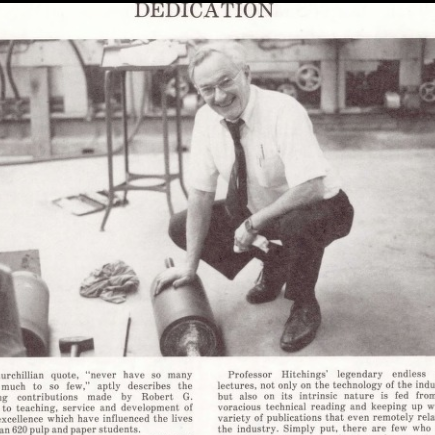 Alumni for Hitchings
The Robert G. Hitchings Endowed Scholarship was established in 1979 by Pulp and Paper Alumni as a tribute to a distinguished and respected educator. A graduate of SUNY College of Forestry, he earned his master of forestry degree from Duke University in 1958. Following his graduation from SUNY in 1944, he worked as a chemist with the Beckwith Chandler Company in New Brunswick, NJ. From 1944 to 1946 he was a member of the U.S. Army Corps of Engineers and worked on the Manhattan Project. After completing his tour of duty in 1946, he joined the faculty of SUNY College of Forestry and served as a research assistant, instructor, assistant professor, and pilot plant group leader.
Professor Hitchings joined the North Carolina State University faculty in 1954 as an assistant professor and was promoted to associate professor, then professor in charge of undergraduate curriculum in pulp and paper science and technology. In 1997, he was named Reuben B. Robertson Professor of Pulp and Paper Science and Technology. This professorship, which is awarded by a committee of peers, is one of the highest faculty honors in the Department of Wood and Paper Science.
"Professor Hitchings was a remarkable person. Through his modest, soft-spoken manner, his "hands-on" approach, and his dedication to excellence, he inspired his students over several decades- more than 600 graduates of the program who now serve as scientists or pulp and paper technologists in pulp and paper-related industries. Under his leadership the program has become the largest in the Southeast and is a major supplier nationally of industry leaders."
The 1987 Pinetum was dedicated to Mr. Hitchings. The writers stated that, "The Churchillian quote, "never have so many owed so much to so few," aptly describes the outstanding contributions made by Robert G. Hitchings to teaching, service, and development of program excellence which have influenced the lives of more than 620 pulp and paper students…he is a superb and dedicated teacher as evidenced by: being named by alumni more times than any other teacher in the school as being the person who contributed most to their education at NCSU; being selected several times by the students as Distinguished Classroom Teacher; being a member of the Academy of Outstanding Teachers; being appointed as the Reuben B. Robertson Professor of Pulp and Paper Science and Technology; and being honored by an endowed scholarship established in his name by grateful alumni. His personal impact on the careers of all of the hundreds of students who have graduated since the beginning of the program has also resulted in a major contribution to the growth and development of the pulp and paper industry, not only in our region but throughout the nation and abroad."
His extensive research activities centered on the relationship between fiber morphology and pulp and paper properties. Mr. Hitchings passed away in 2014.