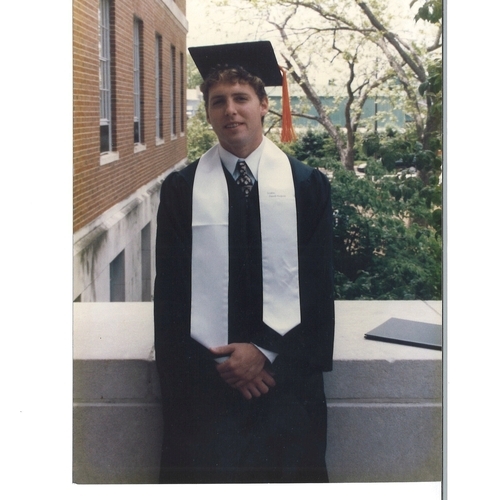 Bob and Ann Szabo In memory of David August Szabo (1975-2021)
David August Szabo (Civil Engineering '97) passed unexpectedly in his sleep on November 24, 2021, at the age of 46. This scholarship has been established in David's honor and memory by his family with the hope that the scholarship will help other NC State civil engineering students to follow in David's successful academic and professional footsteps.
David was born on May 20, 1975, in Baton Rouge, Louisiana. He grew up in Potomac, Maryland, as the second of four boys who were born within a five-year span. From his earliest years through high school, David's life revolved around his family, athletics, and his many friends. David lettered in both baseball and soccer at Walt Whitman High School in Bethesda, Maryland. During his senior year, David's soccer team participated in the Maryland state championship game, falling just short of victory. David continued his interest in soccer at NC State, playing for the university's club team and his fraternity team and coaching youth soccer.
Throughout his life, David focused on being the best he could be at his profession, maintaining his wide range of friendships, traveling the nation and the world, enjoying the beauty of nature and living an active life. David was motivated to pursue civil engineering by the example of his paternal grandfather, August John Szabo, who graduated in civil engineering from Louisiana State University in 1943. As a Reserve Officer Training Corps (ROTC) second lieutenant, upon graduation David's grandfather went directly into the Army Air Corps. He served in the Pacific campaign during
World War II, building airstrips on the islands of Micronesia, often under enemy fire.
After a wide search of universities that offered outstanding civil engineering programs, David chose North Carolina State University. At NC State, David was on the academic honor role, was in several national honor societies and graduated cum laude in civil engineering. David was a member of the Kappa Sigma social fraternity, where he also earned awards for his scholastic achievements. Toward the end of his college career, David decided that, rather than being a design engineer, he would prefer to work in the field, ensuring that buildings were built to design specifications.
Impact
Upon graduation, David accepted a job as a project engineer with a major steel fabrication company in Charlotte, North Carolina. After working two years in Charlotte, David resigned his position to travel extensively through Europe for several months. Upon returning from Europe, David relocated to San Diego, California. Except for a year and a half when he returned to the Washington, DC, area to work as a project manager on a major retail development in the Maryland suburbs, David lived and worked the remainder of his life in San Diego.
In San Diego, David worked for several major construction and construction management companies, primarily on buildings for educational institutions and the United States Navy. During his two decades in San Diego, David earned the reputation of being outstanding in his profession and had a bright professional future ahead of him when he unexpectedly passed away.
The Szabo family establishes this scholarship in loving memory of David. Their hope is that this scholarship will assist deserving students receive the same strong education in civil engineering that allowed David to succeed in his profession while living life on his own terms.