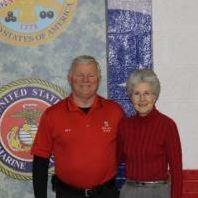 Coutcher ROTC Scholarship
Tim Hughes and Gail Coutcher Hughes were both the first in their immediate families to graduate from
college, and they are ardent believers in the power of education to transform lives. They also believe
that philanthropy is a strategy to create legacies. The Dan and Lois Coutcher Scholarship for Navy and
Marine Corps ROTC honors Gail's brother and sister-in-law, Dan and Lois Coutcher.
Dan Coutcher served in collegiate and ROTC ministries for forty years and, in 2004, came to NC
State's ROTC program. Dan was a confidant to hundreds of ROTC cadets and faculty as their
dedicated chaplain. They were drawn to his self-discipline, sense of humor, directness, and, above all,
his faith. He was a man of integrity who humbly offered critical emotional and moral support while
providing insightful guidance in their daily lives. Dan won their trust and hearts and presented them with
hand-crafted gear trees upon commissioning. He loved his family dearly and remained devoted and
loving to his wife, Lois, during their forty-one years of marriage. Dan passed away in September of
2015 and is greatly missed by all who knew him.
The 2016 creation of the Dan and Lois Coutcher Scholarship for Navy and Marine Corps ROTC will
create a lasting legacy honoring both the service and commitment of the Coutcher family to the ROTC
program at NC State and will encourage future students to pursue military careers in service to their
country.