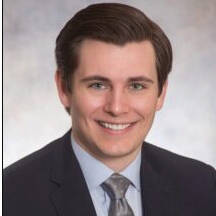 Robert A. Walsh
Robert Andrew "Andy" Walsh (Political Science '13) is an associate at Parker Poe Adams & Bernstein LLP in Charlotte, North Carolina. Andy grew up in Cary, North Carolina, one of three children of his parents, Bob and Phebe. After graduation, Andy worked in various government relations roles including with SAS Institute, NC State and Smith Anderson Law Firm. He then received his law degree from the University of North Carolina School of Law.
During his four years at NC State, Andy served in a variety of student leadership positions. He was elected as a freshman senator in the Student Senate and served in this capacity through his sophomore year, culminating his tenure as the Campus Community Committee Chair. He then served as the Traditions Committee Chair in the student government executive branch and, in his senior year, he was elected by his peers as the Student Body President and member of the Board of Trustees. In these roles, Andy deeply valued the power of university traditions and how they could bring together such a diverse university community.
Putting this principal to purpose, Andy was able to complete significant projects as an undergraduate student. He lobbied for and helped bring back a living mascot with the acquisition of a Tamaskan dog, Tuffy. He revitalized the campout tradition for the NC State-University of North Carolina basketball rivalry and helped oversee the creation and implementation of the Traditions Keeper momento program through The Brick publication. Andy was one of four student leaders to create the annual Respect the Pack event and led the efforts for the Coaches' Corner statue project outside of Reynolds Coliseum, forever enshrining the legacies of Everett Case, Norm Sloan, Jim Valvano and Kay Yow. While Student Body President, Andy advocated for more student engagement, fought for lower student tuition and fees and helped create more signature campus events including the Wolfstock Concert Series and Packapalooza, the bookend to Wolfpack Welcome Week.
In addition to these student leadership positions, Andy played on the club ice hockey team and was the starting goalie for the 2010-2011 Atlantic Coastal Collegiate Hockey League (ACCHL) championship team. He graduated summa cum laude and was inducted into the Phi Beta Kappa honor society.
Andy encourages students to serve their campus community and to further develop their leadership abilities during their time at NC State. While it can be a challenge to balance the role of full-time student with student involvement, Andy wants students to know the lasting value of such pursuits and that every student has the ability to leave their university home a better place than when they arrived.